Monday, November 29, 2004
YEAH BABY!!
Boston, MA (Sports Network) - The Boston Red Sox reached an agreement on a two-year, $3 million deal Monday with veteran catcher Doug Mirabelli. Mirabelli becomes the first of 16 free agents to re-sign with the defending World Series champions. The 34-year-old Mirabelli played in 59 games this past season as the backup to Jason Varitek and hit a career-high .281 with nine homers and 32 runs batted in. Mirabelli has also enjoyed stints with San Francisco and Texas during his nine-year major league career and owns a lifetime batting average of .242 with 41 home runs and 147 RBI in 395 contests.
*NESH sources tell us that Doug "Get in My" Mirabelli brought up Varitek's playoff trouble's with the knuckler during negotiations to illustrate his own value. Hook, line, and sinker.
-Nomarfan2004
AP PHOTO
WILLIE: "I'D LOVE TO HAVE PEDRO"
METS COURT PEDRO: Mets general manager Omar Minaya reportedly has made free agent Pedro Martinez a contract offer after dining with the right-hander in the Dominican Republic.
SOX INTERESTED IN KENT
-Tattle Tale Millar to get the Crown Royale out of town?-
Jeff Kent wants to remain in Houston but will look elsewhere if he considers the Astros' offer disrespectful. The Tigers, Cubs, Rangers and Red Sox are some of the teams that have expressed interest in signing Kent as a second baseman, first baseman or designated hitter.
Thursday, November 25, 2004
I LOVE THEO ON THANKSGIVING

Time to talk turkey with 'Tek and Co.
Thanksgiving 2003 was all about receiving. Red Sox Nation continues to give thanks to Theo for acquiring Curt Schilling, and with him a 2004 World Series Championship.
Well, happy Thanksgiving 2004. The Mets have jumped into the Pedro sweepstakes. Al Leiter and the Mets have agreed discontinue talks, so the Mets have turned their loser eyes to D' Lowe.
http://mets.scout.com/2/322712.html
The Sox should have signed their anchor, Jason Varitek, before the 2004 season. The same 4 year, $36 million offer that is currently being rejected would have gotten it done a year ago.
Letting a player play out the final year of his contract can clearly backfire.
Thanksgiving 2004 needs to be about giving. Give D'Lowe an offer. Give O.C. a call back. Give Pedro a take it or leave it offer, then move on to Pavano. Give 'Tek a call and invite him to Thanksgiving dinner, without Scott Boras. Split the wishbone with some of these guys, so that Theo can move on and improve on last year's team. This is fun. Can't wait for the winter meetings. Happy Thanksgiving. -Nomarfan2004
Tuesday, November 23, 2004
Article Last Updated: Saturday, November 20, 2004 - 2:11:00 AM EST

Barry landed good seat for Nomar drama play

By ROB BRADFORD, Sun Staff
BOSTON Brent Barry will never look at Boston the same way again.
Before coming back for last night's game with the Celtics, the San Antonio guard found himself in the belly of the beast that was the second biggest trade in Boston Red Sox history. For two days in July, Barry was an accidental tourist during some of the most intense moments of Nomar Garciaparra's departure out of town.

"It's one of those things you always want to be a fly on the wall for," said Barry. "That day I was that fly."



Boston Dirt Dogs Let It Go; Did he snub you for an autograph??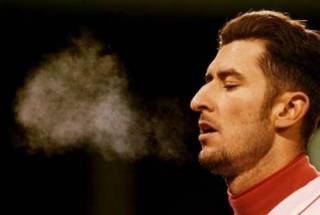 A Cold Hearted Red Sox Nation???
"While some untalented members of the Boston talk radio contingency, and dirt dog basement dwellars, continue to kick a man when he's down, this "true" Red Sox fan shows a lot of class-while expressing the sentiments of many of us. Time to move on to another whipping boy. It is hot stove season 2004-05."
-Nomarfan2004

November 2, 2004
Happy for Sox, sad for Nomar
November 2, 2004
THINGS WILL never quite be the same. But for me this sentence MY HEART ACHES for Nomar Garciaparra. Since he was traded to the Chicago Cubs in late July, I have rooted for the Red Sox, and I cheered for them at Saturday's parade. But my feelings have changed. I am no longer driven solely by a desire to win it all. I am also driven by my love of the team's core players, who, like Nomar and Pedro Martinez, leave their heart and soul on the field every day.
Nomar's commitment to this team and to Boston over many years, his obvious love and respect for the game, and his excellence drew me to baseball.
I know that the Boston sports media and many fickle fans decided long ago that without trading him the Red Sox wouldn't be champions today. But I disagree.

-DONNA PALERMINO, Cambridge